Education: Doctor of Musical Arts


Linda Minasian has received her:

Doctor of Musical Arts degree from the University of Southern California Thornton School of Music in 2001, majoring in piano performance. Graduating with honors, she was the recipient of the Pi Kappa Lambda National Music Honor Society award.

---
Education: Master of Fine Arts
Master of Fine Arts degree, majoring in piano performance. Studying with Aube Tzerko and Joanna Harris.


---
Education: Artist Diploma


Artist Diploma from the Musikhochschule in Munich, Germany. Studying with Klause Schilde.



---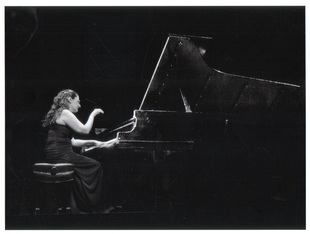 Linda Minasian is a pianist with extensive repertoire. She has appeared as a soloist in Europe, Japan, the Middle East, and the United States.
---
Publication


• Published in the American Music Teacher National Journal in 2006, Dr. Minasian has discussed the effects of handedness in piano playing in her article The Biological Principles of Education. The article results from several years of research and experimentation and suggests new pedagogical approaches according to the learning styles of right-brained students. The full article is available
here
.
---
Article


In Memoriam
The article focuses on
interpretation
vs
execution
of music.
It reflects the pianist as a performer and as a pedagogue.
It is a narrative of a historic event portrayed through music and add
resses the following issues, among others: Can imagination be taught? Is it harmful or useful to apply a story to an absolute music?
Dr. Minasian, who performed this historic work as a teenager, was given the opportunity to meet with the composer.
In Memoriam is an homage not only to the composer of the work, but to the million and a half who perished during the historic event in discussion.
The full article is available here.
The performance of the work by Dr. Minasian is available to listen here.
---
Lecturer


• Dr. Minasian is sought after by Inland Empire piano instructors to conduct seminars on Pianistic Hand Injuries, caused by either incorrect technique and posture, or improper practice skills. The seminar is geared towards the prevention of such injuries at a young age and to make the educators aware of their enormous responsibility in maintaining the health of their young students

• Regionalism in Spanish Piano Composition of Manuel de Falla. Selected speaker at the College Music Society Annual Conference - Pacific Chapter - at the University of Nevada, Las Vegas, 2005.


---